Can I just turn up to watch a lesson?

Sorry, but if you want to watch, then you must pay the lesson fee.
I understand that it is natural to want to know some things about a class before making any sort of commitment to it.

It is partly for this reason that there is currently no membership fee required for attendance to any of the classes. So if you want to try, you need only pay for that lesson, with no other costs or commitments.
A good deal of information that you are likely to find helpful has been placed on this web-site but if you want to actually see Wing Chun in practice then may I suggest that you search for Samuel Kwok (my Wing Chun master) on the youtube.com site. You should be able to find several clips of him there.
As for the Zhan Zhuang, I am afraid that standing still is not very exciting to watch :-), however there are two television series that I can recommend:

The first is my Master's television series for Channel Four, 'Stand Still, Be Fit', made in the early 1990s.

The second is my own series filmed in 2017 in India, 'Chi Kung - Get fit & healthy by relaxing'.

Both can we watched for free, on YouTube, by clicking on the images below.


&nbsp &nbsp &nbsp &nbsp &nbsp &nbsp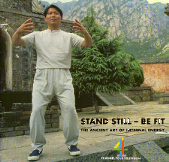 &nbsp &nbsp &nbsp &nbsp &nbsp &nbsp &nbsp &nbsp